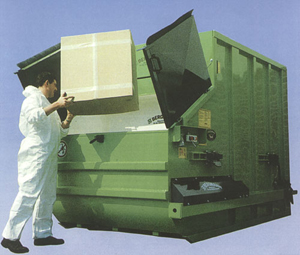 The Alpha Pack Bin APB 605 SN large compactor uses a 'throw-over' blade system that not only guarantees a high rate of waste compaction, it is also a highly cost effective solution for waste product disposal.
The Alpha Pack Bin uses a pendulum roof for trouble-free emptying and offers a pick up from either end for cable or hook systems.
This large waste compactor has continued to be a popular choice for waste disposal over the past 10 years.