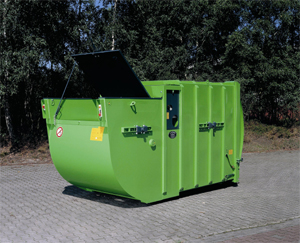 The Mobile Pack Bin MPB 405 SN large compactor uses a 'throw-over' blade system that guarantees cleanliness with no need to hold the refuse to feed the press.
This large waste compactor can be fed continuously and offers a very high level of waste compaction with a low noise level during operation.
The Mobile Pack Bin MPB 405 large waste compactor provides the most economical net weight possible.
Advantages of this large compactor include a huge capacity - 8 tons of general waste can be compressed. This reduces the cost of transport journeys, cuts staffing and space costs, considerably.