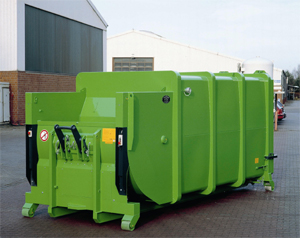 The Mobile Pack Bin MPB 906 ST large compactor uses a pendulum blade that guarantees cleanliness and no unsightly smells.
The Mobile Pack Bin can be loaded continuously and a high level of compaction is achieved with a low output of noise.
The Mobile Pack Bin has a huge capacity and can compress up to 8 tons of waste.
This large compactor offers considerably reduced waste handling costs as well as creating a clean and effiecient work environment.