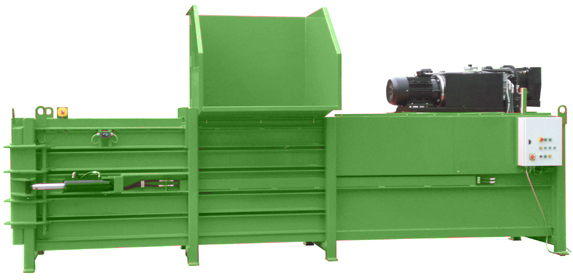 The CK600H is the largest vertical cardboard baler in our range, it provides a throughput up to 2.5 tonne per hour, and is ideal for waste processors and factories.
Features include a 50 tonne compaction force, a v-plate shear mechanism, magic eye start up, bale full indicator, and a 15KW motor running off a 3 phase power supply. Options include an 1100 litre bin lift, a second magic eye for a conveyor feed, and customer specific hopper design.
The horizontal tie system makes the CK600H suitable for plastic bottles and aluminium cans.
Technical Information
Feed Opening:
Long 1300
Wide 720
Deep 1100
Machine Dimensions:
Height 2600 (mm)
Width 1420
Long 5700
Machine Weight: 6100 kg

Bale Size (mm):
Height 1100
Width 750
Long 1450

(length variable from 1300mm to 1500mm)
Bale Weight: 550kg (cardboard)
Compaction Force: 50 tonne
Motor: 15 kw
Electricity Supply: 3 phase, 5 pin, 64A plug
Throughput: Up to 5 bales per hour